Tooher-Ferraris Insurance Group is a family owned and operated independent insurance agency serving New England since 1932.
Since 1932, Tooher-Ferraris Insurance Group has tailored insurance and risk management programs to meet the unique needs of each family, business and individual we insure.
Our dynamic team is made up of career insurance professionals and industry leaders dedicated to understanding the changing marketplace. Our collaborative approach utilizes our collective years of experience to better serve our customer. 
The insurance companies we represent are among the strongest financial institutions in the world. Equally important is their long history of equitable claims payment delivered with exemplary service. 
OUR APPROACH
Risk Synergy™ is a synchronized and collaborative approach between our team, the insured and the insurance carrier, in order to deliver an insurance and risk management program to protect the assets of each individual, family, and business we insure. By coordinating underwriting, claims, loss control, our team and your objectives, we can deliver a superior and sustainable plan.

Risk Synergy™ is a results oriented partnership with the goal of achieving:

Better Pricing
Transparency in Underwriting
Tailored Coverage
Reduced Exposure to Loss
Superior Claims Management
Stability
From compliance to communication, let us provide a full spectrum of solutions for your personal and business needs.
With our knowledge and experience, we will help identify your needs and strategic objectives — with the goal of delivering innovative insurance and risk management solutions.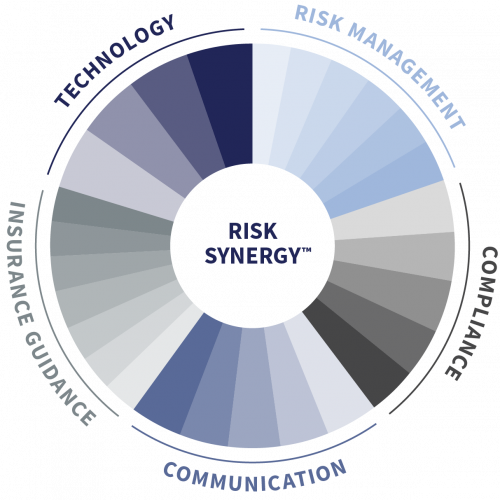 Risk Management
OSHA Benchmarking
Contractual Risk Transfer
Subcontractor Management
Return to Work Programs
Experience Modification Management
Fraud Reduction Program
Compliance
Insurance Compliance
Federal/State Compliance
Occupational Health and Safety Administration (OSHA)
Department of Transportation (DOT)
Federal Motor Carrier Safety Administration (FMCSA)
Communication
Written Compliance Programs
Employee Safety Manuals
Workplace Posters
Industry Specific Safety Training
Employee Newsletters, Videos & Payroll Stuffers
Insurance Guidance
Access to Multiple Specialized Insurance Markets
Creative Program Design
Annual Classification & Audit Reviews
Claims Management & Billing Assistance
Renewal Negotiation & Plan Comparisons
Coverage & Policy Expertise
Ongoing Service to Maintain Your Program
Technology
24/7 Web Access to your Policy Data & Service Requests
Mobile Application for iOS and Android Devices
Automated Certificates of Insurance & Auto ID Cards
Access to Electronic Policy Documents and Endorsements
1.
Build relationships throughout the community.
2.
Achieve balanced, sustainable growth.
3.
Deliver exceptional service through accurate, timely communication.
4.
Advocate on behalf of our clients.
OUR MISSION
Thoughtful insurance, you can trust.
Your lifestyle is one that deserves to be protected. Tooher-Ferraris Insurance Group's proprietary methodology, Risk Synergy™, produces a customized insurance and risk management program for each individual, family, and business that we insure. Our friendly and knowledgeable team advocates, educates, and delivers high-touch service to our customers with honesty, integrity, and dependability.